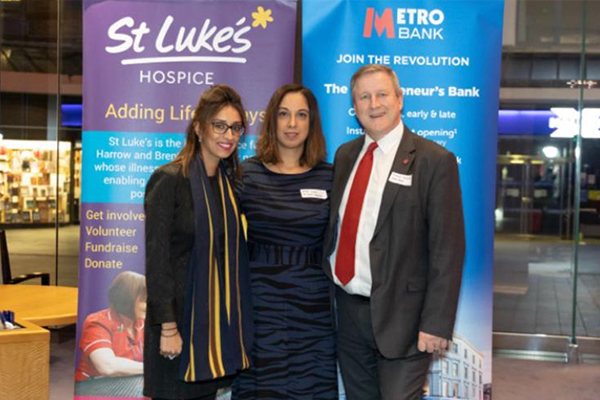 Jaspar Foundation made a substantial donation to St Luke's Hospice in Harrow, to support an in-patient room for two years.
Following the donation, the Foundation's Director Riddhi Pankhania was invited to a reception in support of the hospice, hosted by Metro Bank. With our roots firmly established in the Harrow area, the Jaspar Foundation is keen to help local organisations.
Riddhi Pankhania, the Director of Jaspar Foundation said, "St Luke's is well known locally for the fantastic work it does providing the best possible end-of-life care for hundreds of people in Harrow and Brent every year.
"It relies on the support of the local community for most of its funding and we are delighted to help the hospice through a difficult time as it has faced increasing demand for its services following the closure of other hospice units locally."
"We're absolutely thrilled with the support from Jaspar Foundation. This donation truly comes at a critical time for the Hospice and will help us continue to give free end of life care to people in Harrow and Brent. We are extremely grateful for all the help we receive from local businesses and the wider community as a whole."
Kiran Grover, Corporate Partnerships Manager, St Luke's Hospice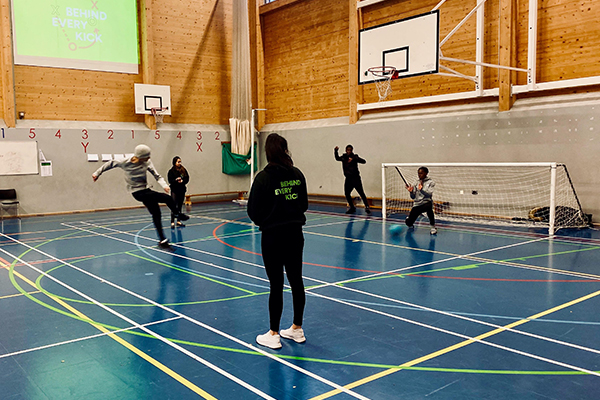 Jaspar Foundation generously donated towards the BEK Big Give Christmas Challenge 2019. Through this match funding opportunity, Behind Every Kick ('BEK') raised a total of £25,000 which significantly contributed to the programme delivery costs for the next year.
The generous donation enabled us to fully fund the cost of 7 in-house specialist trainers to deliver the full BEK Development Programme across London. The programme works with young people in Year 11 (age 15 years old) and is delivered over the course of a sports season with partner clubs and school teams. The sessions on the programme focus on themes such as dealing with pressure, resilience, communication and teamwork in a theoretical and practical environment. They are designed to encourage the team to practice the theories and methods covered in the sessions within the context of their sports training and to understand the transferability of these skills in their daily lives.
"It's benefitted us in ways I don't think we even realise. We used to have a different approach when we were winning or losing, we reacted differently than we do now. It's so nice to see how much we've grown and matured…"
Malakia, Age 15 , School 21.
"Thank you for all these opportunities and I really hope there will be more"
Richie Age 17, Sporting Hackney FC
"It was really striking how engaged the groups were. Using sport as a way to connect with young people really seemed to resonate with them and the conversations we were able to have about their lives, the challenges they face and the skills they can develop were incredibly powerful."
Ewan Flynn, Trainer at Skinners Academy and Sporting Hackney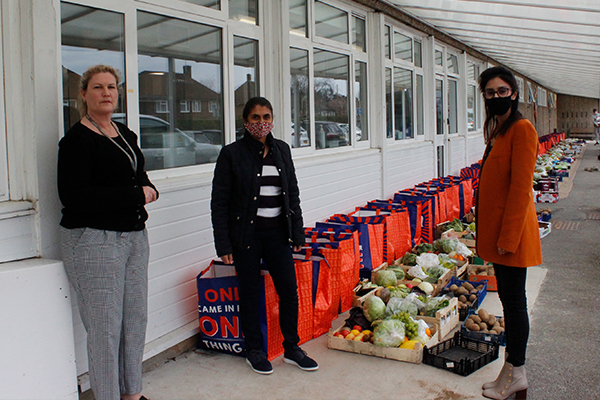 Jaspar Foundation felt humbled to work with Eastbury & Moor Park Community Aid in January 2021, to donate food boxes every 2 weeks over 3 months, for 50 families in need at Colnbrook School.
Colnbrook is a special needs school in South Oxhey, which made it difficult for these families to shop for food easily, with special needs children in tow. The food boxes were vegetarian and contained cupboard dry food as well as fresh fruit and vegetables to cover a 2 week period. Local grocers were more than willing to support the donation with the supply of fresh fruit and vegetables from Aston Fruit & Veg and Warren's Fruit & Veg.
This collaborative effort truly alleviated suffering and helped the wellbeing of the 50 families whom we supported.
"Thank you once again from everyone at Colnbrook for your amazing generosity to the families."
Caroline Aplin, Headteacher, Colnbrook School