Jaspar Foundation supported Father Alex Frost with St Mathew's Church and Pastor Michael Fleming's charity, Church on the Streets Ministry which aims to support people affected by homelessness and addiction in Burnley.
The two priests called for an urgent plea for support for needy individuals due to the pandemic. With lack of jobs, businesses closed due to the lockdown and furlough of staff, through Jaspar Foundation, Raj authorised donations for the food bank and vouchers to both these vicars. These donations went to supporting needy families in Burnley, who live below the poverty line and have been hard hit with the pandemic.
900 lives impacted from donation
Jaspar Foundation heard about the good work done by Dan Atkins in London, with refurbishing decommissioned London buses into Eating, Sleeping, Wellbeing and Learning spaces, in order to re-engage homeless people back into the community.
With no fundraising efforts permitted in lockdown, Buses4homeless were pleased to receive a donation from Jaspar Foundation.
"Your funds are going towards supporting people through our Buses4Homeless 3-6 month intensive programme and our Community Outreach Bus which goes out into the community helping the vulnerable and homeless with PPE provision to protect them from COVID-19, toiletries and other food and essential items. So thank you."
Dan Atkins, Founder, Buses4Homeless
Jaspar Foundation donated a large sum of furniture to New Hope homeless charity to use in their temporary accommodation and the main centre. The furniture was used to replace old furniture in residents rooms, giving it a fresh new look and a more welcome feel.  The 8 TVs were a welcome addition to individual rooms in the Sanctuary. During Covid restrictions, a number of the residents who were self-isolating had the comfort of a TV in their own rooms, which was beneficial for their mental health. Some of the furniture items were used in residents' homes when they moved to their own rehoused/assisted or council properties.
"The dining chairs were used to revamp the Dining Room, giving it a smarter appearance and encourages more residents to eat together in comfort, promoting social inclusion and positive mental health. Once again, thank you so much for your kind donation. It is greatly appreciated and the items have been put to good use."
Sarah Jones, New Hope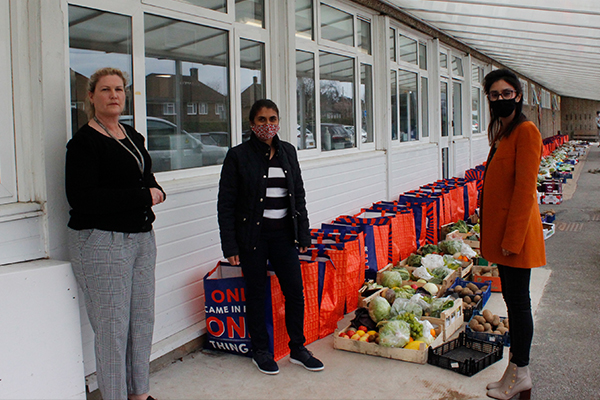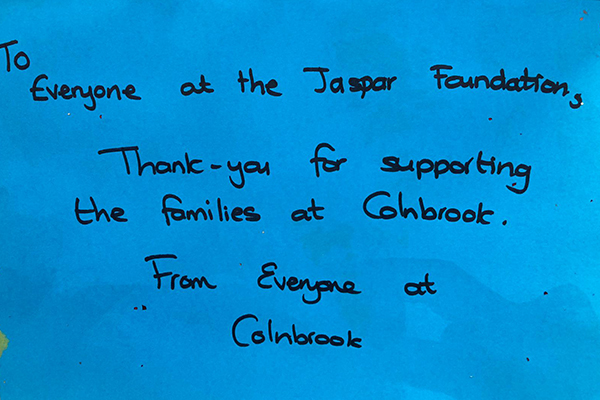 In January 2021, when UK went into the 3rd lockdown, Raj authorised his support for Colnbrook School in Oxhey for 3 months with regular delivery of cupboard groceries and large fresh fruit and vegetable boxes to 50 families in need.
Colnbrook School specialises in learning difficulties, autism spectrum disorders and speech and language difficulties. With the Foundation's help, the families came to the school and collected the food boxes which avoided them shopping for groceries with children with learning difficulties in tow and the free food boxes really helped them in this time of need.
"Thank you once again from everyone at Colnbrook for your amazing generosity to the families."
Caroline Aplin, Headteacher, Colnbrook School
London's Community Kitchen (LCK)
Raj was totally moved by a video that he saw of the surplus food hub run by LCK on Ealing Road. It highlighted the real and growing problem of extreme food poverty in London and in England, especially due to the Covid situation. Here once a week the hub is open from 11am-2pm. There is a queue of 900 people along Ealing Road, who come and wait in line for almost 3-4 hours to collect food essentials from the hub. The line starts at 8am. Supported by the London Borough of Brent, the food hub has been running for 6-7 years but since the pandemic, there are more needy people who have been coming and have been affected by food poverty in a big way.
In line with Raj's opening of the Jaspar Centre for the elderly, this initiative struck a chord in Raj's heart and he wanted to help, especially as so many needy individuals and families could benefit from the food and the impact was phenomenal. Reaching out to Barry Gardiner, MP for Brent, Raj made a donation from Jaspar Foundation to London's Community Kitchen.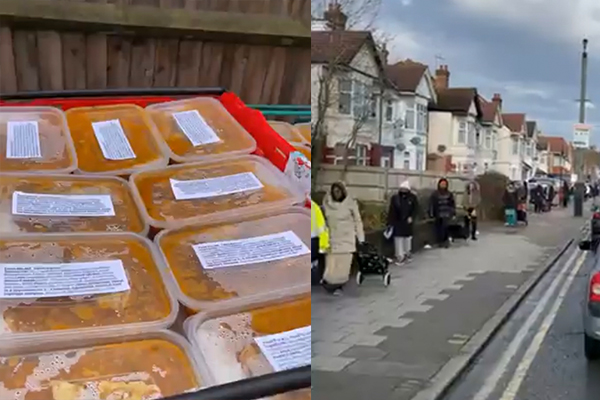 "This donation has made it possible for us to continue serving and supporting the people of Harrow which includes homeless, unemployed, single parents and the elderly. The donation is being used to purchase fresh fruit and vegetables for those in food insecurity to assist needy individuals and families."
Taz Khan, Director of Operations, LCK