Jaspar Foundation generously donated towards the BEK Big Give Christmas Challenge 2019.
Through this match funding opportunity, Behind Every Kick ('BEK') raised a total of £25,000 which significantly contributed to the programme delivery costs for the next year.
The generous donation enabled us to fully fund the cost of 7 in-house specialist trainers to deliver the full BEK Development Programme across London. The programme works with young people in Year 11 (age 15 years old) and is delivered over the course of a sports season with partner clubs and school teams. The sessions on the programme focus on themes such as dealing with pressure, resilience, communication and teamwork in a theoretical and practical environment. They are designed to encourage the team to practice the theories and methods covered in the sessions within the context of their sports training and to understand the transferability of these skills in their daily lives.
"It's benefitted us in ways I don't think we even realise. We used to have a different approach when we were winning or losing, we reacted differently than we do now. It's so nice to see how much we've grown and matured…"
 Malakia, Age 15 , School 21.
"Thank you for all these opportunities and I really hope there will be more"  Richie Age 17, Sporting Hackney FC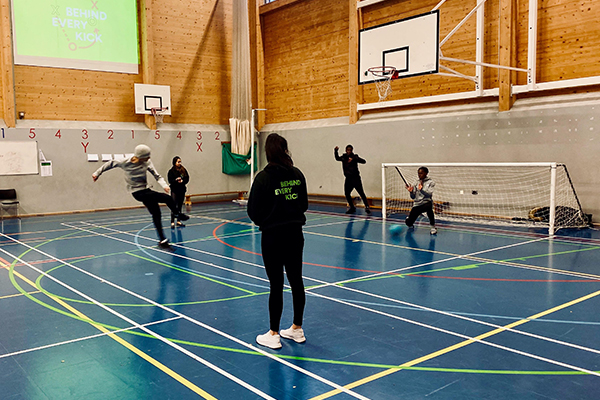 "It was really striking how engaged the groups were. Using sport as a way to connect with young people really seemed to resonate with them and the conversations we were able to have about their lives, the challenges they face and the skills they can develop were incredibly powerful."
Ewan Flynn, Trainer at Skinners Academy and Sporting Hackney